Ribose: Energy-Boosting Heart Supporter or Sugar Trap?
What is D-ribose found in? It can be obtained from both animal and plant sources. It's also available in supplement form. Let's take a look at how you can consume more of this important compound on a daily basis and also if a supplement may be a natural and therapeutic option for your particular health concerns.
---
What Is Ribose?
---
5 D-Ribose Benefits and Uses
Supports Heart Health
Enhances Exercise
Helps Treat Fibromyalgia and Chronic Fatigue Syndrome
May Help Manage Myoadenylate Deaminase Deficiency Symptoms
Boosts Skin Health
1. Supports Heart Health
2. Enhances Exercise
3. Helps Treat Fibromyalgia and Chronic Fatigue Syndrome
4. May Help Manage Myoadenylate Deaminase Deficiency Symptoms
5. Boosts Skin Health
This naturally occurring sugar may also offer impressive benefits for skin health, especially when it comes to anti-aging efforts. As we age, our cells naturally produce less ATP. The good news is that this naturally occurring sugar boosts ATP regeneration.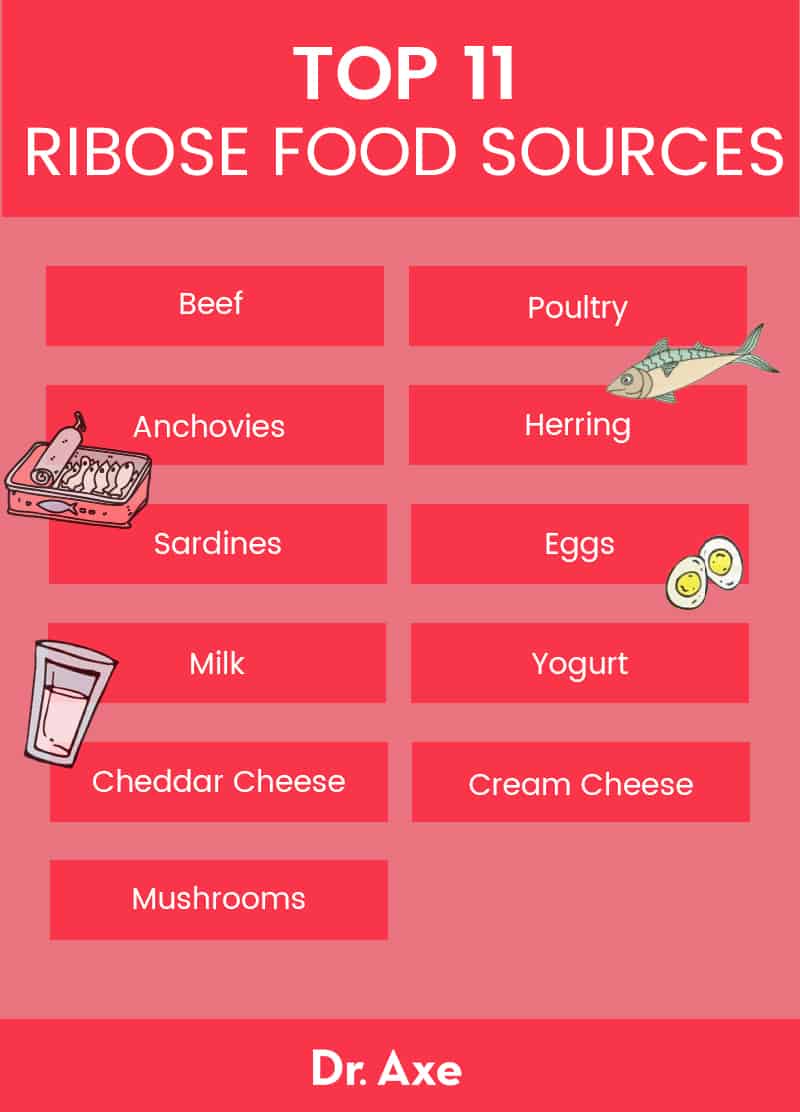 ---
D-Ribose Foods and Sources
Poultry
Anchovies
Herring
Eggs
Milk
Yogurt
Cheddar cheese
Cream cheese
It can be difficult to get enough from dietary sources, however. That's why many people choose to take a supplement.
---
D-Ribose Supplement and Dosage Recommendations
This natural sugar is available in health stores and online in supplement form as a powder, chewable tablet or capsule. You can take the powder in water or add it to other beverages, like smoothies, or mix it into kefir or yogurt. Powder form is definitely a popular way to take it, but reading D-ribose reviews may help you to determine which supplement is best for your you. It is also a component of multi-ingredient supplements for energy.
Some other recommended dosing starting points include:
5 grams daily for cardiovascular prevention, for athletes on maintenance and for healthy people doing strenuous activity
10–15 grams daily for most patients with heart failure, other forms of ischemic cardiovascular disease or peripheral vascular disease; for individuals recovering from heart surgery or heart attack; for treatment of stable angina; and for athletes working out in chronic bouts of high-intensity exercise
15–30 grams daily for patients with advanced heart failure, dilated cardiomyopathy or frequent angina; for individuals awaiting heart transplants; and for people with fibromyalgia or neuromuscular disease
Talk to your health care provider if you are unsure what dosage is right for you.
---
How to Get More Ribose + Recipes
If you're looking to incorporate more foods rich in D-ribose into your daily diet, here are some healthy and delicious recipes to try out today:
---
Ribose vs. Deoxyribose
The biggest difference between deoxyribose vs. ribose is one oxygen atom. The ribose found in RNA is considered a "normal" sugar with one oxygen atom that attaches to each carbon atom. Meanwhile, the deoxyribose in DNA is a modified sugar and lacks one oxygen atom. This single oxygen atom difference between the two sugars is key to distinguishing the two sugars within organisms.
---
History and Interesting Facts
In 1909, Phoebus Levene successfully isolated the D-ribose from ribonucleic acid. In 1929, he went on to discover 2-deoxyribose.
D-ribose is a sugar the human body uses to manufacture adenosine triphosphate (ATP), which is the energy that fuels our cells and therefore our bodies.
It can be found in foods but not in very high or significant amounts. That is why some people choose to supplement.
---
Side Effects, Interactions and Precautions
For most people, D-ribose is typically safe by mouth on a short-term basis or when a health care provider administers it intravenously (by IV).
Drugs known to moderately interact with this naturally occurring sugar include insulin and other antidiabetes drugs. Other things that may have more minor interactions include alcohol, aspirin, choline magnesium trisalicylate (Trilisate), propranolol (Inderal) and salsalate (Disalcid).
Check with your doctor before taking these supplements if you are pregnant, nursing, have an ongoing medical condition or currently take any medication.
---
Final Thoughts
What is ribose sugar? Also known as D-ribose, this simple sugar is naturally in plants, animals and humans.
It's key to the body's ATP molecule production and hence energy levels.
The most notable function of this compound is that it provides a key energy source. This is why many people take ribose supplements to boost exercise performance as well as recovery.
Scientific studies show that it can help a number of health concerns, including heart diseases, fibromyalgia symptoms and chronic fatigue syndrome.
Research shows that it can boost skin health, especially when it comes to visible signs of aging like wrinkles.
You can obtain it through your diet by eating foods like grass-fed beef, organic chicken, sardines, eggs and yogurt.
You can also take it as supplement, including in powder form, which you can add to beverages, yogurt, etc.